A brief post tonight, if only to keep up my streak of days with a post.
I had my first round of auditions today (callbacks are tomorrow), and was pleasantly surprised by the turnout. Not that I wasn't expecting good actors – I got them in spades, even the people I didn't call back – but that I wasn't expecting so many men or how, consequently, tough the casting choices are going to be.
What it didn't look like, but was the best image I could come up with.
One of the things about "The Farnsworth Invention" is that it has, by my count, 93 speaking roles in 43 scenes, so – short of casting 93 actors – there's going to be a lot of doubling, tripling, and quadrupling – or more. I've broken down the casting at least five times (my initial spreadsheet was nine pages; I've gotten it down to one or two, depending), and while I think I've got the final version, it's still subject to change dependent on what happens in rehearsal. (This also applies to blocking; I have a feeling that I may well stage a scene, look at it, and say, "Well, that didn't work. Let's try it this way." Fortunately, I've (finally!) got a long-enough rehearsal period that I have the luxury of being able to do that.)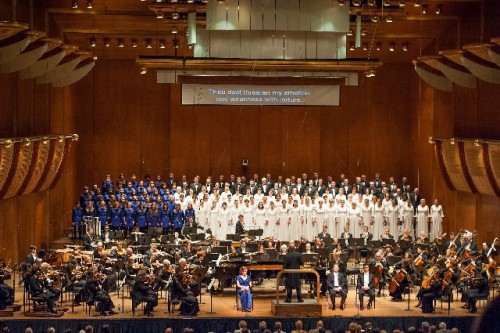 Probably the right-size cast for "Farnsworth."
You never know what you're going to get in an open audition. I've seen brilliant monologues and I've seen cringe-worthy stuff. My favorite example of the latter was in 1983. I was working the desk, checking people in for the Equity auditions for the Grove Shakespeare Festival. The festival itself was in Garden Grove – the heart of Orange County – but the auditions were at Santa Ana College. A fellow with a "European" accent – it wasn't Spanish, French, German, Russian, or any identifiable-to-me dialect; it was "European" – came in asked where the bathroom was. It was a warm day and he'd driven down from Los Angeles, so I assumed he needed to either use the facilities or just "refresh" himself.
The Festival Amphitheatre in Garden Grove.
He'd been in the bathroom a few minutes, and I went in to either use the facilities myself or get him.
Not recommended audition wear.
I mentally rolled my eyes and rushed into the theatre to warn the producer and the directors, "There's a guy in a toga in the bathroom." They visibly rolled their eyes, and I went out to usher this actor into the lion's den. The producer said, "Ah, I see you're doing something modern."
The actor muttered some humorous reply, climbed the stairs to the stage, and launched into a very bad version of "Franz, romance, countrymans" (sounding, in memory. like a bad Schwarzenegger impression). He finished and the producer went up on stage, put a friendly arm around his shoulder, and explained to him why his choices may not have been the best.
This was also the series of auditions where, in the non-Equity call, a kid (just out of high school) did some Shakespearean scene that had elaborate blocking and miming of props and other characters. It was astounding in its awful meticulousness. When he finished (after what seemed like about an hour), he thanked us and left, and we all turned to one another and asked, "What the hell was that?"
After seeing those, I've learned to both expect anything at an audition and that I'll never see anything that quit matches those heights.
Though a boy can dream, can't he?