As I've been harping on, in the 60s, 70s, and 80s, there were very few opportunities for a person to develop an interest in old movies. Before I could drive, my options were limited to television and the Stanley-Warner Theatre in La Mirada – which was a nice theatre (I can still picture it vividly, even the little smoker's rooms in the back of the auditorium) – but one which had only one screen, and in those days, if a movie was a hit, it could monopolize a theatre for months.
If adults were willing to take me, I could branch my options out, going to, say, the Norwalk Theatre (in Norwalk, of all places), or the Meralta in Downey, or even the Wardman in Whittier, but even then, the selections were limited.
The Norwalk. I actually saw the "Batman" movie here in 1966 --
and remind me to tell you that story sometime.
I have memories of going into Hollywood sometime in the mid-60s to see a double-bill of "Frankenstein" and "Dracula" (I was crazy for monster movies, but my most vivid
–

and pleasant
–

memory of the evening is the buzzing on the ancient soundtrack – still one of my favorite sounds), or in the early 70s, going to see "The Adventures of Robin Hood" at the Fairfax in Los Angeles or someplace similar. Such screenings and the subsequent excursions were rare, though. I remember being in San Francisco in the mid-70s and insisting on my sister and mother go with me to see "Bringing Up Baby" and "His Girl Friday."
While there were always revival and second-run theatres (particularly in New York), in the late 60s, a real boom began in the Boston area that spread across the country – or at least to the Los Angeles area, and I was just in time to catch the wave.
In memory, there were (at the very least) the Vista and the Beverly in Hollywood, the Nuart in West LA, the Monica in Santa Monica, the Sherman in Sherman Oaks, the Wilshire in Fullerton (in a converted swimming pool space), and best of all, the LA CountryArt Museum (with thematic programs curated by the late, great, and invaluable Ron Haver), the Vagabond on Wilshire, and the Encore on Melrose.
I

t really was a converted swimming pool -- the diving
boards were stored behind the screen.
I can't even begin to catalog the hours I spent in those theatres, watching movies on the big screen in the way they were intended to be seen. I used to keep track of my moviegoing in those days, and there was one month in 1976 or 1977 when I saw over 100 movies – it helped to have the Los Angeles International Film Exposition (or "Filmex," as it was officially known) show a 50-hour marathon of movies that had won Oscars.
There were even outliers like "The Old Movie Theatre and Motion Picture Hall of Fame," which was a converted banquet room in the long-departed Saga Motel in Anaheim – literally across Harbor Blvd. from the entrance to Disneyland. It was a one-man operation; Doug Wright, who ran the place, sold you your ticket, and on his way up to the booth to start the projector, he'd shout notes about the current film and upcoming attractions over the wall of the "lobby" – which was a partitioned-off area that had a few exhibits, such as one of the skeletons used for animating the 1933 King Kong, and a self-service popcorn machine. It was kinda cheesy and wasn't the most optimal place to see a movie, but it had a certain charm – and was the first place I ever saw the Marx Brothers in "Animal Crackers," their second released film that had been tied up in legal proceedings for decades. I've been told it was an awful bootleg print, but I remember it as being fine.
Not only was it across the street from Disneyland,
it even had a miniature golf course.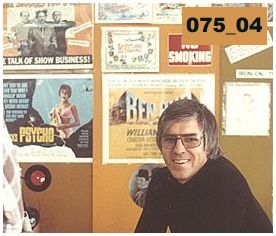 Doug Wright in the Hall of Fame
Other than "Animal Crackers," my most vivid memory of the Old Movie Theatre and Motion Picture Hall of Fame (I always think of it that way, since, when you'd phone the theatre to find out a showtime – which was about the only way of finding out what would be playing – Wright would bellow that phrase at you as part of the message) was coming home from it one night. KTLA was showing "The Bride of Frankenstein," a movie I'd seen as a kid but hadn't seen in a long, long time – and certainly not since I'd read about it and realized what a sharp and intentionally funny movie it is; "campy" decades before the term would be invented. It hadn't been on TV in forever, and it was finally going to be on on a Saturday night at midnight. It had been so long since it had been on at all, in fact, that there was no telling how long it would be before I could see it again. I left Anaheim after seeing something (god knows what) and got caught in the most hellacious traffic jam in the history of the Santa Ana Freeway. (Freeways had names, not numbers, in those days). Normally, it'd be about a half-hour drive (that was one of the advantages to living in La Mirada then; it was about a half-hour from anywhere) .This night, though, it took me hours to get home, and so I missed most of the movie. I had no idea when – or if –I'd ever see it again. (I eventually did, but it did indeed take years.)
Even Elsa and Colin found that traffic jam appalling.

These theatres almost always showed double features, so you had to choose your seat carefully for maximum comfort, but you were always in the presence of people who loved movies and who knew how to appreciate them – no commenting on them with sighs or catcalls – and certainly no cell phones or texting in those days. People were there to watch the movie and see long-dead (or at least, long-retired) stars at the peak of their abilities.
Prints were almost always good, projection was handled by actual people in the booth, and there was frequently a sense of either discovery ("Oh, how long have I waited to see this one?") or comfort "(How many times have I seen this?") or even disappointment ("I waited to see that?" – for some reason, Lucy in "Mame" comes to mind here …), but there was always a sense that you were in for an interesting and unique evening or afternoon.
Bea Arthur and Lucy in "Bosom Buddies:"
"Two foghorns meeting in the night."
We've lost that, I think. Take "The Bride of Frankenstein." In those days, I had no idea if it'd ever come around again, so when it was available, I could feel both anticipatory that it was showing and fulfilled that I'd finally seen it. You were forced to absorb a movie and remember it because it might be the only time you'd see it – and, granted, they weren't all gems; for every 1936 "Show Boat," there was the potential for 1937's "High, Wide, and Handsome." The latter is a movie I chose at random, but which I realize makes my point. I saw it sometime in the early 80s, and haven't seen it since (though I've wanted to), but remember it distinctly, from the "The Folks Who Live on the Hill" number – one of Kern and Hammerstein's finest songs – to the elephant stampede (in 1870s Pennsylvania!) at the climax. Now, it's not a bad movie by any means, but it's certainly unique – from the aforementioned stampede to being a musical with a male lead who doesn't sing a single number (because he can't sing at all), but that does feature a number by William Frawley.
"I never miss a William Frawley musical."
Now, I'll never deny that I'm as much a "victim" of our current ability to have almost any media or informational desire fulfilled immediately; in fact, I revel in being able to indulge in it. There's been something lost, though, in being able to whip out my phone and look up anything from Garret Morris's age to when the stapler was invented (both of which I actually did today) rather than indulging in the old "barroom argument" over when something happened or who did it.
Just as we no longer have to wonder about stuff, we also no longer need to remember it. It's always there, accessible with a few clicks or taps, so that there's only an eternal present. We're like the people who sustain brain damage and are no longer able to make new memories. Why remember something when you can just watch it or read it or listen to it whenever you want?